At Chris' IGA we pride ourselves on the level of customer service and care that we provide. Our Loyalty Program is designed to thank all of our regular customers with rewards and benefits.
Becoming a member of Chris' IGA Customer Loyalty Reward Program is easy. Simply ask any of our friendly checkout operators for an application form next time you are in the store.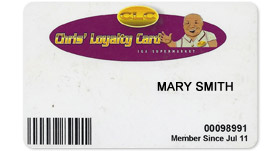 Join now, and enjoy our great member benefits:
Once a month, we'll convert all the points that you have earned in the previous month to Loyalty Reward Dollars and send you a Customer Loyalty Reward Cheque, which you will be free to spend in our store.
*Conditions apply, not redeemable for cash.
Exclusive Member Only Specials.
Exclusive Member Draws
Keep an eye out for our new Chris' IGA Loyalty Rewards Program launching June 1st 2019.
Signing up is really easy. Forms now available at the registers.
Sign up in store
Follow the prompts in your welcome email
Scan your card every time you shop!
Sign up today to qualify for immediate discounts on hundreds of products throughout the store. Plus, complete your online profile to gain access to automatic entry to competitions and extra deals and discounts.
It's that easy